Sports Business Simulations

Corporate Background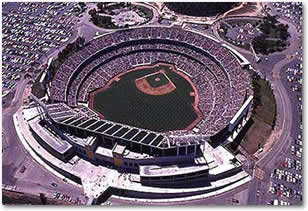 In 2002, a former aide to The Mayor of Oakland met the head of the University of San Francisco Sport Management department to discuss stadium financing, and the need for a new stadium for the Oakland Baseball. In that meeting, USF Professor Dr. Dan Rascher, PhD, took note of Zenophon Abraham's web-based simulation game The XFL Simworld, and said "I need that for my class."
When Mr. Abraham finished his second simulator in late October, the Oakland Baseball Simworld, he met again with Mr. Rascher, and Sports Business Simulations was born. On January 24th of 2003, SBS became a Delaware Corporation, with seed capital.
Sports Business Simulation's charge is to build online business Simulations of sports teams and leagues for use in the classroom. On June 23rd, SBS launched "SBS World," an Internet-based combination of simulations and sports business-related information and discussion groups. For just $12.50, a student has unlimited use of SBS' simulators for an entire class semester or quarter, and fantasy sports players can join for the same price over a three month period. SBS products are not designed to replace textbooks, they are developed to enhance the classroom experience.
SBS has two simulators: the XFL Simworld and the Oakland Baseball Simworld, but has plans to add more simulators. The SBS strategy is to partner with an existing sports team to use their branding and share a percentage of revenues from sim use.
Based in Oakland, California, SBS itself has seven company officers: Zenophon Abraham, CEO; Dan Rascher, PhD, Vice Chairman; Kristin Herrera, Executive Vice President for Corporate Design; Sandrine Olivencia, Senior Vice President for Marketing and Product Development; Jill Schulze, Vice President of Investor Relations; Karen Kelly, Senior Vice President for Sales and Business Development.
SBS has a key strategic alliance with Forio Business Simulations. Forio hosts the SBS World and Forio's principals, Michael Bean and Will Glass form the SBS Advisory Board.
SBS is also available to build specialized sports businesses simulators for colleges and other groups and organizations.
SBS World is at www.sportsbusinesssims.com. For e-mail information, the address is info@sportsbusinesssims.com